A&A Machine & Development Company was started in 1972 by Eric Hymovitz's father.  Eric spent a lot of time at the shop, learning the trade and sweeping floors; ultimately taking over the business in 1995.  Located in Gardena, CA, A&A Machine's customers include the commercial and aerospace industries, working with materials such as aluminum, brass, bronze, stainless steel, carbon steel casting, forging and other exotic materials.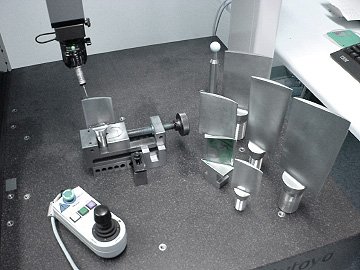 "As our CNC department grew I knew we needed to more powerful software programs.  Moving from 2-2.5D into 3 & 4 axis, the availability of technical support, and the needs we were facing as a growing shop, I started doing my research.  We made the switch to OneCNC and immediately felt productive with the software.  I instantly appreciated the ease of use of OneCNC and the power that exists because of the ease of use.  We started out on a lower level of OneCNC and in a short period of time we upgraded to simultaneous 5 axis, lathe, and wire EDM."  
The transition was smooth because of the help Eric received from OneCNC technical support, and the available training videos.  Eric handles most of the programming in this 30 man shop, "sometimes you will run into a particular job and just not know how to tackle it, and I don't have someone over my shoulder at the shop to provide me with the techniques that are best suited for a job, but with OneCNC's technical support, you do have someone there to help with different methods that are effective for your parts.  It is assuring that I have someone behind me to give me the confidence that I can do any job that comes across my desk.  It helped develop and expand our shop because we were able to get into jobs that we might have been a little afraid of but because we have OneCNC behind us, we now know we are capable to take those jobs on."

"We just purchased another 5 axis machine in December which is exciting as our other 5 axis machine was always busy and behind schedule, we are looking forward to maximizing our capabilities this year.  I know we are going to have a good year, in talking with my customers I know that they are going to have a good year.  We are an integral supplier for our customers and will continue to be for a long time to come, these relationships and their opinions of our reliability is valuable to the success of A&A Machine". 
Mr. Eric Hymovitz
For more information please visit: www.onecnc.com and www.aamach.com